DevOpsDays India at Bangalore was a part of an international series of technical conferences covering software development, IT infrastructure operations, cloud engineering, cloud-native technologies, DevOps practices, and the intersection between all of these fields. The event featured curated talks (speakers) and self-organised open space content. The topics varied from automation, testing, and security to organisational culture.
People facing issues with their DevOps initiatives take an interest in these events because they can witness new technology and adopt new best practices that have emerged from the various corners of the world. Also, most attendees are looking for reliable solutions that they can use to solve their burning issues or attain the state of maturity they are aiming for.
Speakers and attendees come from diverse organisations to attend the event. They are champions of their respective fields and technologies and have worked in. Each individual brings a unique experience, and one must assemble as much as possible.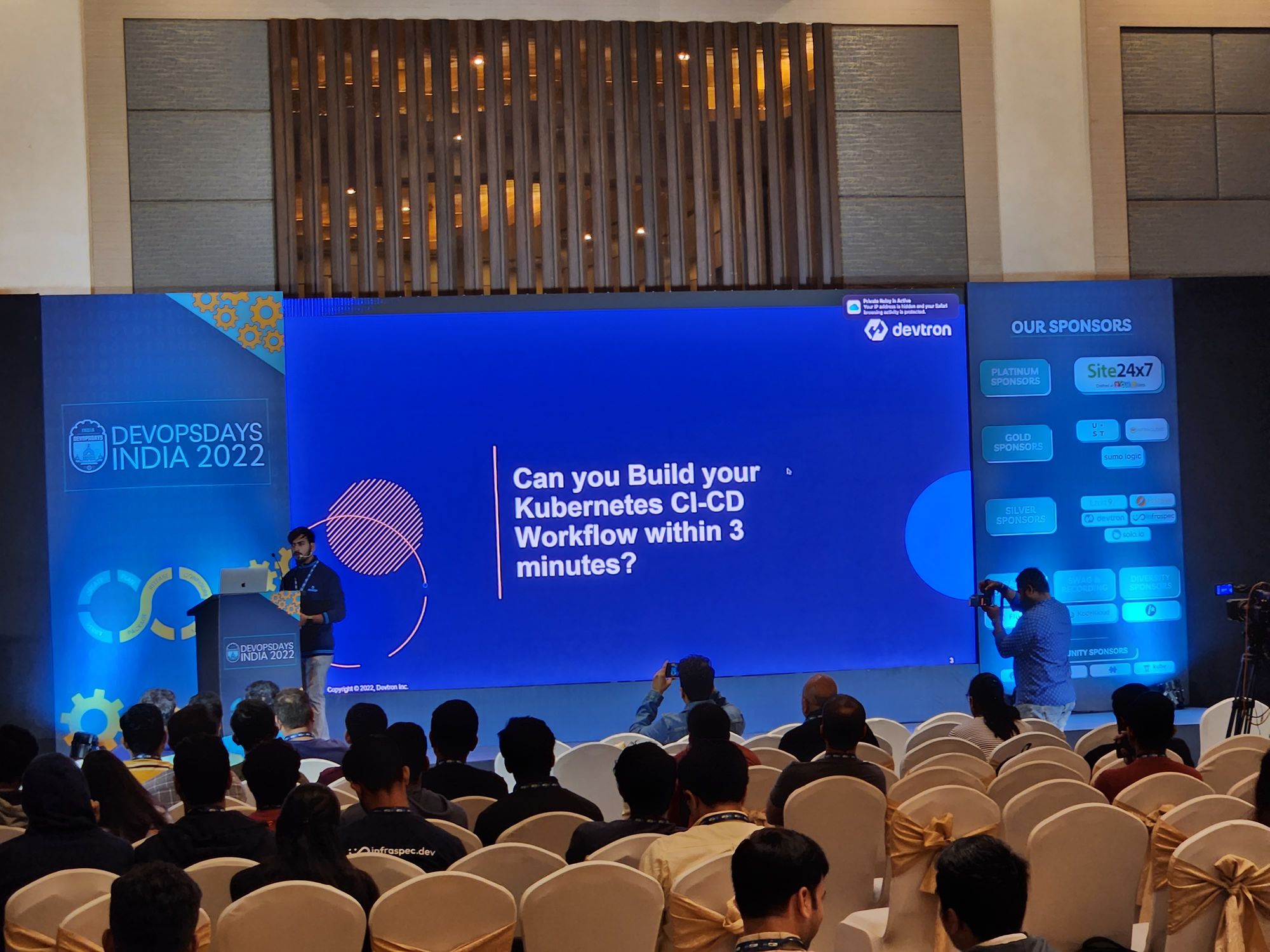 Abhinav Dubey, from Devtron Inc, spoke to an audience of over 300 people on how easy it can be to set up pipelines and build highly resilient, scalable infrastructure using  Devtron. While we delivered talks, distributed goodies, taked to practitioners of DevOps, we were also trending on twitter with our hashtag DevOps War story.
Why is the event important for Devtron?
Devtron sponsored the DevOpsDays India 2022 in Bangalore on 18 and 19th of November. A specialised event like DevOpsDays holds a far greater value to the community in the aspect of knowledge sharing than just gathering leads. Besides sharing our development with the community, we go to such events to learn from practitioners about their challenges and insights in adopting Kubernetes and achieving DevOps maturity. To that end, attending this conference was a highly rewarding experience.
We had several takeaways and learnings from the conference. But the biggest one being that application teams struggle a lot before they gather enough experience to navigate complex tools like Kubernetes in production. It may take months to more than a year for them to round up the confidence to deploy applications on Kubernetes in production. There are dependencies for unprepared teams, like the learning curve, choosing the right cloud-native stack, building a platform engineering team, etc. to enable them towards their goal. But all of these dependencies cannot be easily met. This was our primary hypothesis and basis for the vision behind building Devtron - accelerate the time to value for adopting Kubernetes in production. And that belief behind that vision got further solidified as we interacted with practitioners at the event. While more and more teams adopt Kubernetes, the dependencies we highlighted above continue to be a big bottleneck for platform engineering teams to deliver business value.
We at Devtron are committed to this vision and to our community. We want to simplify the learning curve and speed up adoption of Kubernetes in organisations. This event allowed us to reach out to DevOps practitioners and SREs  from all organisations looking to adopt solutions that can reduce their time to market while adopting a complex technology like Kubernetes.
What is Devtron?
Devtron is an open source production-ready Kubernetes-native DevOps platform that covers all your needs on Kubernetes, such as continuous integration, continuous delivery, GitOps, observability, troubleshooting, security and governance. It is Cloud Native, easy to adapt and scale, secure, and makes your Kubernetes infrastructure production-ready on day 1. Developers don't have to get trained separately on deploying applications on Kubernetes and using tools like kubectl and Helm. They can continue to focus on what matters the most to their business, i.e. building features.
Conclusion
In 2022, going Cloud Native and being able to scale efficiently should be easy. Devtron's Kubernetes-native DevOps platform helps organisations of any size adopt Kubernetes rapidly and attain DevOps maturity without investing a lot of time, money and precious engineering resources going through a rigorous learning curve of building a production-ready Kubernetes platform. Devtron helps DevOps and platform engineering teams speed up adoption of Kubernetes and get business value out of their cloud-native transformation journey. It is open-source, and there is no differentiation between the managed services offering and the open source releases.

We're hiring!
If you are passionate about DevOps, Kubernetes and cloud native technologies, we are hiring. Check out open positions.